Well constructed + arrived on time, which was quite impressive. It was a gift to my boyfriend + he loved it.
Custom Keychain
Stylish, received so many compliments! Very well made and durable. I absolutely love it!
Dual-Purpose Bag
I can tell this belt is hand crafted and made from super thick leather. Can't wait to give this as a gift!
Brown Hoof Pick Belt
Premium Dog Collar for Small Dogs
$88.00
For the wee doggies in our lives. We have made a smaller and thinner dog collar for the small joys in our lives to feel comfortable from saddle bridle. You can count on it to be extremely durable. Just make sure you tell your friends where you got it! Please measure your dog's current collar to fit. Featured in dark saddle brown bridle leather. 
DOG COLLAR PHONE NUMBER: Please make sure to add your phone number to the item note in the checkout cart, otherwise we will have to contact you for the correct phone number. 
Dog Collar Sizing:
Please measure the current length of your dog collar. If using a buckle collar currently - measure from the buckle to the hole your dog wears. If using a snap buckle - measure the entire length of the collar. 
Sizing: Small (10 inches), Medium (12 inches), Large (14)

Bluegrass Blog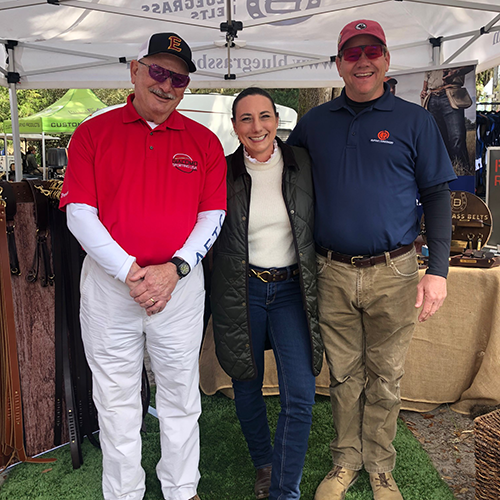 The Seminole Cup began 28 years ago as a promotion for Seminole Gunworks at a small shooting club in Florida. For the first 21 years, the shoot was operated by Randy Mitchell. Now the tournament is led by Jon Kent, Sea Island's Director of Outdoor Pursuits and Randy Mitchell son-in-law. So you could say it's a bit of a family affair.
How To Wear Your Bluegrass Belt